Sidney Myer – Founder of a Department Store Empire » J-Wire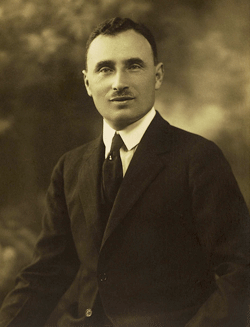 June 14, 2022 by Ruth Lillian
Read on for the article
Sidney Baevski was born on February 8, 1878, in Krichev, which was then part of the Russian Empire and is now known as the country of Belarus.
He was the youngest of eleven children born to Ezekiel Baevski, a Hebrew scholar, and his wife, Koona Dubrusha. He was educated at the Jewish elementary school in Krichev and later ran his mother's drapery business. He emigrated to Melbourne in August 1899 with very little money and little knowledge of English to join his older brother, Elcon who had left Russia two years earlier. Several months after Sidney's arrival in Melbourne, the brothers adopted the surname of Myer (the middle name of their older brother Jacob).
Both Sidney and Elcon worked at Slutzkin's underwear business in Flinders Lane, Melbourne. Later they established a small drapery shop in Bendigo, which proved to be successful. The store was called Myer, the first of many to come.
Sidney took his wares, stockings, laces, etc., from door to door, and, despite his poor knowledge of English, sold his wares. He then bought a cart and traveled through the country towns. The business then moved to Pall Mall, Bendigo where it flourished and further stores were added, after which the Sidneys were able to purchase the Bendigo business from Craig Williamson and Thomas.
In late 1909, Sidney traveled abroad to study British and European marketing methods and to establish contacts with manufacturers and exporters. In 1911 Sidney purchased Wright and Neil's business, Drapers, in Bourke Street near the General Post Office, and a new building was completed and opened in 1914. He raised staff wages, then closed the store for a fortnight of inventory and ordering; and in June, after a series of full-page newspaper advertisements, Melbourne saw its first Myer sale. Old stock sold for a song, new stock was sold almost at cost, goods once kept behind counters were strewn across tables, and the rush lasted a week.
The Doveton woolen mills in Ballarat were purchased in 1918 and in 1921 a new building overlooking Post Office Place was added in Melbourne. These became the Myer department store chain. The Myer Emporium grew with the purchase of old established businesses such as Robertson & Moffat and Stephens & Sons.
In 1925 Myer Ltd was listed on the Melbourne Stock Exchange and the new building on the Lonsdale Street frontage was constructed. A separate building in Queensberry Street, Melbourne, was erected in 1928, and the Collins Street businesses of T. Webb and Sons – porcelain importers – and W. H. Rocke and Company – home furnishings – were purchased and moved into the building of Bourke Street. In the meantime a public company had been formed which in 1934 had a paid up capital of almost £2,500,000. A majority stake in Marshall's Limited of Adelaide was also acquired. At this time the company employed 5,300 people with medical and nursing aid for staff and rest homes for them by the sea and in the Dandenong Ranges. Some of Myer's friends and associates feared the business was growing too quickly, but it was in a prosperous state and quickly recovering from the effects of depression, when Myer died suddenly on September 5, 1934, of heart failure near his home in Toorak, at the age of 56.
As for her personal life, in March 1905, Sidney married Hannah Nance Flegeltaub. They had no children, although from 1911 he acted as guardian to his nephew, (Sir) Norman Myer. In mid-1919, Sidney traveled to the United States to study retail trade. While there, he divorced Hannah in Reno Nevada, although the divorce was not recognized by Australian law. While in Nevada, Sidney converted to Christianity.
On January 8, 1920, Sidney married Merlyn Baillieu (later Dame Merlyn Myer), on her 20th birthday. They had two daughters and two sons – Kenneth AC, Neilma, Sidney Baillieu AC and Merlyn Baillieu (Lady Southey AC). Merlyn traveled to San Francisco for the birth of each of their four children to ensure they would be considered legitimate. They were certainly legitimate and in the following paragraphs it is more than interesting to read about their business, political and philanthropic life.
The Myers returned to Australia in 1929. Kenneth Myer was a philanthropist, one of the main driving forces behind the Victorian Arts Centre; chairman of the Australian Broadcasting Corporation; and was offered and declined the invitation to become Governor-General of Australia. Ken and his brother Baillieu established the Myer Foundation in 1959. Sidney Baillieu married Sarah Hordern of the Sydney Hordern family of retailers in 1955, connecting two of Australia's wealthiest families. Sidney Baillieu and Sarah had three children: Sid, Rupert and Samantha.
One of Sidney's granddaughters, Joanna Baevski (the only daughter of Kenneth and Prue Myer to bear her great-grandfather's name) is a director of the Myer Foundation.
Sydney's legacy lives on. His love of music, after playing the violin, led him to establish free outdoor concerts with the Melbourne Symphony Orchestra in 1929, which have always been well attended by Melburnians. During the Depression of the 1930s, Sidney felt responsible for contributing something to the community that had helped him achieve business success and personal fortune. Rather than terminating the jobs of workers at Myers Department Store, all staff, including himself, had their wages cut. The relief work was personally funded by him to provide employment opportunities. For the unemployed at Christmas, he funded a Christmas dinner for 10,000 people at the Royal Exhibition Building, with presents for all the children.
His funeral was attended by some 100,000 people. His grave, a sepulcher for receiving urns of ashes, is in Box Hill Public Cemetery in Melbourne. A tenth of his estate went to establish the Sidney Myer Charitable Trust, now known as the Sidney Myer Fund, to continue the tradition of philanthropy begun by its founder. The most famous philanthropic funding was for the construction of the Sidney Myer Music Bowl in the Kings Domain, Melbourne in 1958, which bears his name. He is also the namesake of the University of Melbourne's Sidney Myer Asia Center building.
The Australian Jewish Historical Society has been the custodian of the records from the arrival of the First Fleet in 1788 until today. Whether you're looking for an academic resource, event, image, or article, AJHS can help you find that historical document. The AJHS welcomes your contributions to the archives. If you are a descendant of someone interesting with a story to tell, or have memories that might be important to the archives, please get in touch via www.ajhs.com.au or his Facebook page.