Sarinah mall as public platform to be creative: minister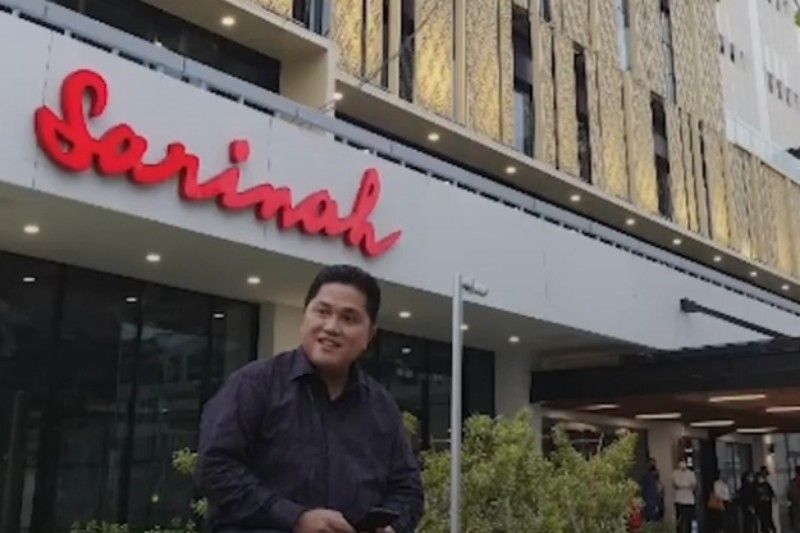 Jakarta (ANTARA) – Minister of State Enterprises (SOE), Erick Thohir, has said Sarinah Mall is ready to become a community platform to collaborate and create.
"Sarinah has reopened! Sarinah is ready to become a community place for collaboration and work, especially for art lovers, local entrepreneurs and MSMEs," said Thohir, quoted on his official Instagram account @erickthohir on Wednesday.
Thohir praised the enthusiasm of Sarinah visitors and their support for the new look of the building.
"Since yesterday many people have come to see Sarinah's new look. Thank you for your support and enthusiasm," Thohir said.
Sarinah Mall on MH Thamrin Street in Central Jakarta was back in operation on Monday (21 March 2022) and 95% of its outlets were occupied mainly by Micro, Small and Medium Enterprises (MSMEs).
PT Sarinah's President and Director, Fetty Kwartati, explained that most of the outlets were staffed by MSME entrepreneurs from all over Indonesia. Some 500 MSMEs present their goods in this new building.
According to Kwartati, of all occupied outlets, at least 75% of them opened on Monday.
Kwartati also explained that talks were still ongoing for several outlets, but that didn't hamper Sarinah's opening ceremony.
She also ensured that all outlets inside Sarinah, Indonesia's oldest mall, are repaired and fully occupied by June 2022.
Related News: Sarinah Building reopens as major renovations complete
According to data from Sarinah and the Ministry of Public Works and Public Housing, the cost of the renovation amounted to about 48,000 USD, or 700 million rupees.
Construction began in July 2020 and was completed in March 2022. Today, the Sarinah building has an area of ​​27,000 m², with 15 floors in total.
The building also offers spectacular views of the city from its new terrace and amphitheater.
Related News: Thohir plans to reopen renovated Sarinah building in March 2022