JOHNSTOWN MAGAZINE HOLIDAY 2022: That old red kettle outside the department store | Johnstown magazine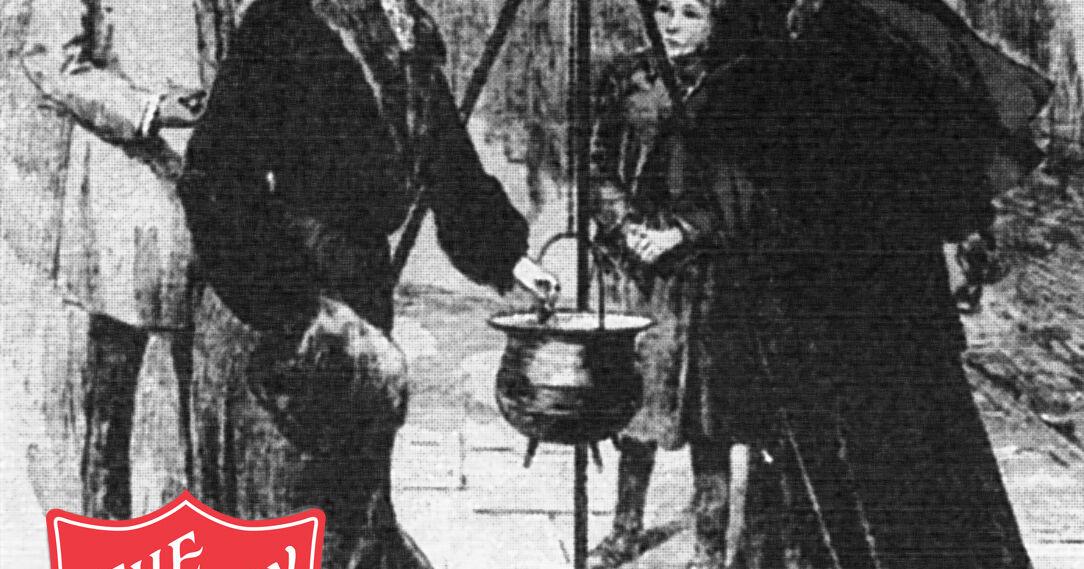 That old red kettle in front of the department store
"If we close our eyes and use our imaginations, we can hear them again."
By JIM GINDLESPERGER
Correspondent, Johnstown Magazine
We've all seen those familiar red kettles during the Christmas season. You know the ones–the ones in the malls and the malls with the volunteers ringing the bells. They are placed by the Salvation Army and they are used as fundraisers for various projects undertaken throughout the year.
How many readers, however, remember the Salvation Army brass bands that played the streets of downtown during Christmas time? They were an important part of the Johnstown holiday traditions that made Christmas so magical for children and adults alike in the 1940s and 1950s. The kettle was there too, of course, since it was a big part of the income of the army for the year, but it was the music, the ensemble, that drew the crowds.
For those unfamiliar with the idea of ​​a marching band playing Christmas music in the streets, be very careful this year when you and your family gather to watch the classic "Christmas Story." When Ralphie and his family head downtown for the Christmas parade, a brass ensemble plays in the background. In another classic, Rowan Atkinson, playing his famous role as Mr. Bean, devotes much of an entire sketch to his "assisting" a Salvation Army brass band. These tapes are what we're talking about.
Here in Johnstown, the crowds that gathered around the set were a microcosm of local citizens: young and old, rich and poor, black and white, older couples listening and reminiscing, and young couples starting it all just dating, or courting, in 1940s vernacular.
As befits the season, the ensemble played only Christmas carols, both sacred and secular, and it was a rare individual who chose to pass, ignoring the melody that emanated from the small group. Rarer still was the person who stopped to listen but did not hum or sing. Most threw their loose change or more into the kettle before leaving. The Salvation Army marching band was as much a part of our Christmas tradition as the annual parade, Santa Claus, or the windows of Glosser's and Penn Traffic department stores.
While the Salvation Army ensemble in Johnstown didn't play the downtown streets by chance, the very first Salvation Army band was entirely unplanned. In the late 1800s, Salvation Army street preachers roamed the streets of American cities, preaching the gospel to anyone who would listen. Unfortunately, not everyone who heard these preachers was friendly, with members of the crowd often resorting to harassing them or even robbing them on occasion.
Then came Charles Fry in 1878, a part-time musician who was a mason by trade. Fry, who lived in Alderbury, Wiltshire, England, was also unafraid to use his fists when the occasion called for it. Fry brought together his three sons, all of whom were also musicians and, presumably, of taller than normal stature. He offered their services as bodyguards for preachers. Predictably, the thefts ceased where the Frys were present.
However, there were long periods when there was no one for the preachers to preach to and, to relieve boredom, Charles and his sons began to play their brass instruments. Playing purely for their own amusement at first, they soon saw crowds forming to listen.
One of them was William Booth, founder of the Salvation Army. He began using the Frys in his own services, and Charles and his sons soon abandoned their family business and joined the Salvation Army full-time as musicians. The idea of ​​using a marching band with street preachers took off, and today there are around 2,500 marching bands around the world that are associated with the Salvation Army, although not all of them play in the streets at Christmas.
The practice of using a kettle began in San Francisco in 1891, when Salvation Army Captain Joseph McFee began offering free Christmas dinners to the destitute in this Californian town. Having no means to fund such an endeavor, however, he drew on his seafaring days in Liverpool, England. There, when the ships arrived, arriving sailors, as well as those who watched the ships arrive, threw coins into a kettle to help the poor. McFee placed a version of the cooking pot at a ferry landing in San Francisco with a sign reading "Keep the cooking pot boiling". It wasn't long before McFee had enough money to fund his plan to provide Christmas dinners for the poor.
As word spread, the idea caught on and today there are kettles, all painted Salvation Army red, in cities across the country, including Johnstown.
Unknown to most people, the Salvation Army played a leading role in forming two traditions that everyone knows about. The first came during World War I, when the US military realized that troops were engaging in hobbies during their free hours that could only be described as disreputable. The Salvation Army, along with the YMCA, Knights of Columbus, Jewish Welfare Board, American Red Cross and American Library Association, have joined forces to provide healthier activities for troops when they are not were not in service. When World War II broke out, a similar need was determined and the same groups were asked to repeat their World War I activities. Their efforts led to the creation of the United Service Organizations for National Defense, or USO. Anyone who has ever served in the military is familiar with this organization.
The second tradition is familiar to everyone, not just those who served in the military. When Paramount Pictures was producing "The Lemon-Drop Kid," starring Bob Hope, songwriters Jay Livingston and Ray Evans were asked to create a Christmas song. Trying to decide what represented the holiday season to everyone, they wrestled with several ideas, ultimately ruling out Santa Claus, Christmas trees, snow, parties, Yule logs and other similar symbols. As they discussed an impending deadline, the sound of Salvation Army bells drifted through a nearby window. Inspired by bell ringers, they wrote a song called "Tinkle Bells".
You say you've never heard of it? Well, Livingston went home and told his wife about it. With as much tact as a good wife could, Mrs. Livingston explained to her husband that the word 'tinkle' could have different connotations in different people, and she suggested that he come up with a different title. The name was changed to "Silver Bells", a song that has become a Christmas favorite.
Salvation Army brass bands are sadly only a part of Johnstown's past. They can no longer be heard on local streets during the Christmas season. But those of us who are old enough will remember them well, and if we close our eyes and use our imaginations, we will be able to hear them again. And those who are too young to have ever heard them must live their lives without such memories. And they are the poorest.