Chesterfield OKs plans to redevelop Rockwood Square shopping center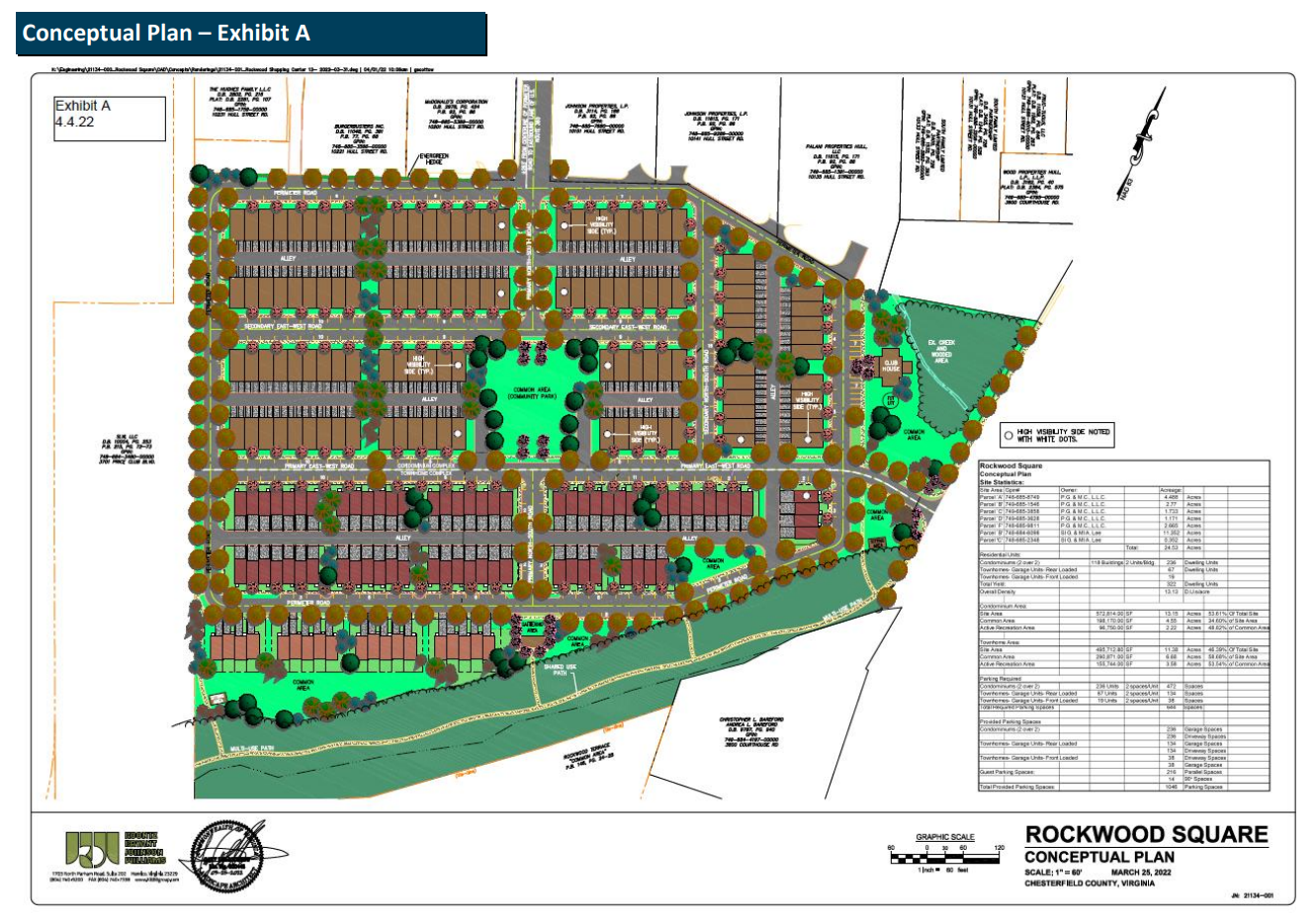 The final stage of the planned transformation of Chesterfield's Rockwood Commercial Corridor has been completed.
Last week, county supervisors approved a rezoning proposal by Stanley Martin Homes to redevelop Rockwood Square Mall and nearby Rockwood Golf Park into several hundred residential units.
The proposed development will total 322 condominiums and townhouses on a 25-acre site currently occupied by the mall's main retail strip and golf course. The units will be distributed between 236 two-by-two condos and 86 townhouses.
While the rezoning allows up to 590 residential units to be built, Stanley Martin Division President Jeremy Swink said the company was interested in the less dense plan.
Two-by-two condos are expected to range from 1,500 square feet to 2,500 square feet. They would have two to three bedrooms. Three-bedroom townhouses would be 1,500 square feet to 2,000 square feet.
Stanley Martin is under contract to buy the project area, and is expected to close on the golf park this year and the shopping center next year. The outer parcels of Rockwood Square are not included in the project.
Swink said this week there was no timeline on when demolition at the site would take place.
Jeff Geiger of the law firm Hirschler represented Stanley Martin in the rezoning case.
The Supervisory Board approved the application on May 26, following the Chesterfield Planning Commission's vote recommending approval in April.
The project will take shape in the county-designated Rockwood Special Interest Area and is the first redevelopment proposal to be approved in the area plan. The land use guide covers over 600 acres centered on area shopping malls near Rockwood Park.
Stanley Martin's proposal was approved at the same meeting of supervisors as the controversial Upper Magnolia Green Technology Park proposal.