A fire destroys several businesses in downtown Gatlinburg, Tennessee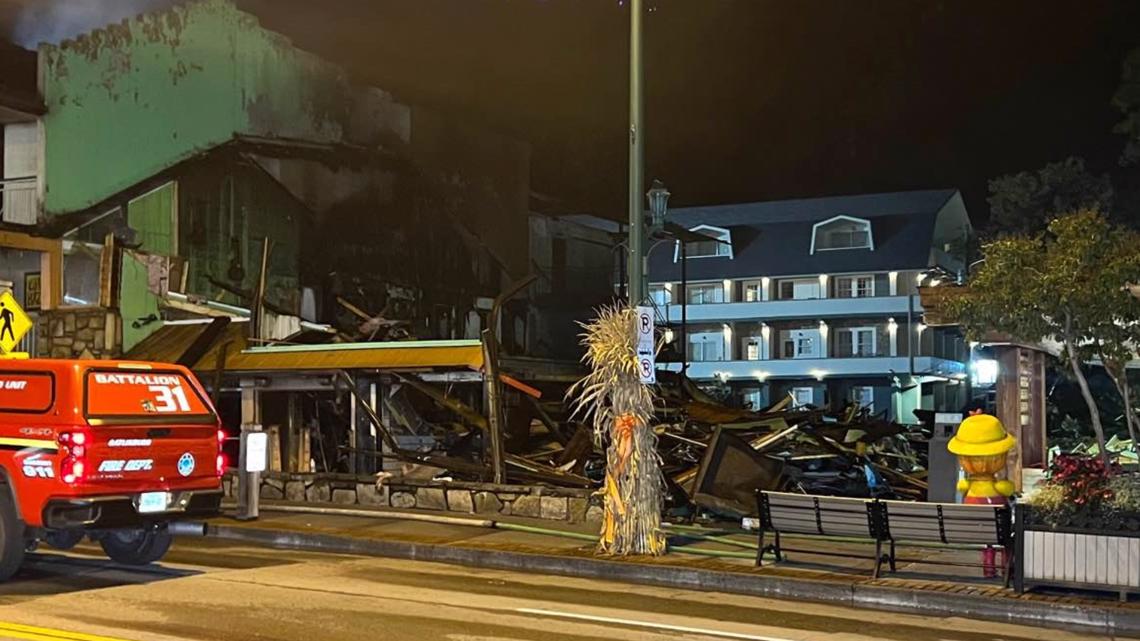 Parts of the building have been razed and only charred debris remains.
GATLINBURG, Tenn. – The Gatlinburg Fire Department is cleaning up after a massive fire broke out in a business block along the boardwalk on Sunday.
Fire crews were dispatched to a structure fire around 6:30 a.m. Sunday morning. The Pigeon Forge Fire Department was also on the scene.
No injuries have been reported at this time, according to the city of Gatlinburg.
On Monday morning, crews continued to monitor and combat hotspots that reignited. Parts of the block that housed the 420 Cafe and Gatlinburg Gifts were demolished with nothing more than charred debris remaining.
The part of the building that housed the Puckers Sports Grill and China Bazaar was still standing Monday morning but badly damaged. Crews continued to battle flames that erupted inside the building and said they expect demolition work to continue once the sun rises.
According to a city news release just after noon Sunday, the downtown Gatlinburg Parkway remained closed between its intersection at traffic light No. 6 and its intersection at Reagan Drive.
The City of Gatlinburg has urged people to avoid the area of ​​this closure until further notice.
According to the statement, city officials have asked people traveling to and from Great Smoky Mountains National Park to use the Gatlinburg Bypass.
"Travel in the immediate area is not recommended at this time, however, if individuals need access to downtown Gatlinburg, motorists may use River Road and Cherokee Orchard Road," the press release read.
Gatlinburg Trolley services were also suspended for the day due to the parkway closure.
Other nearby businesses were also damaged by the fire, such as Ole Smoky Candy Kitchen across the street.
"Our store will have to be closed longer, possibly longer for what we had anticipated," said Patricia Edwards, owner of Ole Smoky Candy Kitchen.
Edwards mentioned that they might need to throw away some of their candies because of the smoke.
Autumn Taylor, director of Candy Concepts, said Puckers was one of their favorite restaurants. "I'm confident that whatever it brings, we will move forward stronger."
GFD plans to give another update on the fires and road closures on Monday morning.
With the exception of the 2016 wildfires, the last time downtown Gatlinburg saw a fire of this magnitude was in the summer of 1992. A fire broke out in a block of buildings near the Space Needle, formerly known as "Rebel Corner". In the end, a dozen businesses were destroyed, including the original Ripley's Believe It or Not museum, a haunted house, an arcade, a gift shop and many more. Ripley's was able to rebuild but lost several unique displays in the fire.